Yupo Painting Paper : Limitless Possibilities
I first saw yupo painting paper at a watercolor artist demo. I was immediately intrigued, not only because of the name, but also of what it did.
In this demonstration, the artist generously lay down layer upon layer of watercolor washes. The colors were typically bright and translucent, and tended to remain that way despite layers of paints. She easily scratched off the dried watercolor paints and added more without disturbing the already applied coats.
When she decided to remove the previously added salt crystals, they too came off without any trouble. Her finished painting did not look like a traditional piece of watercolor art work. It looked wonderful; however, this style is difficult to define. Some parts of it reminded me of the lovely subtle texture one sees on a piece of encaustic art. However, the colors were less muted and more transparent than encaustic paints.
That week, I brought home a yupo painting pad and had some great fun playing around with it. At first, it took a while to get used to the somewhat slick surface, a texture that conventional watercolor paper – often made of cotton - does not possess.
As I experimented some more, I became increasingly amazed at how tough and durable the yupo paper is.
---
My Own Yupo Paper Techniques
I started all over with watercolor paints. With my brushes, I can paint some interesting washes that spread in a way similar to encaustic wax. I can easily alter the washes, stain and stain them again, or remove them completely. This is not possible with watercolor paper; it absorbs and holds paint, leaving little room for correction.
In some way, this synthetic paper is more forgiving than the traditional watercolor surface. I experimented on yupo paper with kosher salt crystals, spreading them over the washes. They spread out forming a more prominent pattern than traditional watercolor. I then scratched off the salt crystals and, thankfully, the paper remained intact!
To start with, I applied watercolors as washes. Once the watercolor was dry, I spread a layer of acrylics on top. They didn't seem to disturb the watercolor washes underneath. Finally, I applied a layer of oil paints on the dried acrylics and it dried very nicely.
I'm pleased that this yupo paper is very durable, as well as being able endure a lot of damage. The only thing I have to look out for is to make sure the surface is free of dust or grease; otherwise the performance of the paper is affected. Keeping this in mind, I've still found that yupo painting frequently gives me the results I want.
---
Yupo Watercolor Paper
Yupo painting paper come in bright white and translucent tones. I use the bright white tone frequently, as they allow the colors to shine fairly well. I also use heavier sets of paper, because of a tendency to build heavy layers of paints on the surface.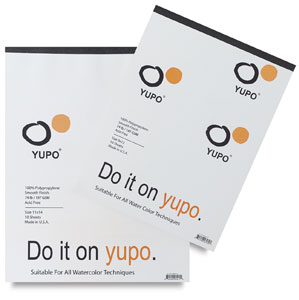 Check them out! The yupo papers are not cheap, but it is forgiving and will last much longer than traditional watercolor paper. So in terms of costs, it might make sense to own a few pieces of them. I suggest you begin with a
watercolor pad
first.
Explore Drawing and Painting›
Watercolor Painting
›
Yupo Painting Paper
Discover This Exciting Tools for Accurate Drawing and Save You Time Here!
Seek to draw well? Get started for a solid foundation!
Yes, you can learn to draw online!