Using Oil Pastels As a Medium
Using oil pastels in your paintings can be rewarding if you know what types of oil pastels, surfaces and some other useful tools to have . These materials are amazingly simple to amass like dried pastels.


Which types of oil pastels should I use?
Using oil pastels of highest quality will not only ensure your art works will last for a long time, the quality of your painting will improve, you will also have a more pleasant painting experience.
This is more true with a medium like oil pastels and pastels because they are like a direct extension of your fingers.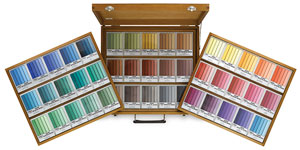 In using oil pastels, first I started out with Holbein Artist's Oil Pastel Sets
. It is one of the best oil pastels sets in the world. Made in Japan, with fine craftsmanship, they can also be purchased individually in the art supply stores.
Soon after I used this brand, I knew then it has to be one of the mediums I will have to use often in my works of art. It is hard to resist the creamy and buttery feel of Holbein oil pastels!
They come labeled with specific names of color on the little boxes, each of which has five different shades. Each stick is shaped square.
You can use the side of the stick for covering large masses and the sharp angle of the stick for lines or details. Each stick is stored in the compartment of a box.

---

Another major, also high quality brand is Sennelier Oil Pastel Sets.
Its line of oil pastels has grown from its original 48 to 105 hues now. These oil pastels include some iridescent, fluorescent and metallic colors that Holbein does not have. They are pointed and only oil pastels of smaller set have paper covering.
I have also bought small set of Loew-Cornell Oil Pastels,
but I must say I am not impressed with the quality. They use like student grade products. They are not as soft and buttery as the other two brands. I have mainly reserved them for my children to use for fun.
I have a box of Portfolio Series Watersoluble Oil Pastels
. Like the name suggests, they can be used with water. Again, I personally think that they are more student grade and therefore not suitable for more serious work.

---
Using Oil Pastels On Various Painting Surfaces
When it comes to surfaces, there are a lot of possibilities. You can use oil pastels on canvas, papers(smooth or rough), plaster, metals, mat boards, museum boards, cloth, Masonite, aluminum foil, etc.


Other Materials
You may need a short list of materials in addition to oil pastels and surfaces. These tools will enable you to achieve your goals once you know the techniques.

You will need:
Cutting Tools-- A single-edged razor blade for cutting sharp edges on pastel sticks. Find some a penknife, or a steak knife, a metal nail file or etching or making sgraffito(incision) look in your painting.
Electric Eraser-- Some oil pastel artists use soft erasers but with oil pastels, soft erasers will not work well. An electric eraser is your best bet.
Painting Knife-- In using oil pastels, to remove the part I don't like, I often use my painting knife to scrap off the paint and start again.
Paper Towels, Baby Wipes For Clean Ups-- The Oil Pastels can feel pretty sticky especially when you are holding the ones without paper covering.

Clean your fingers constantly and also remember to clean the tip of the oil pastel sticks so they do not muddy your painting next time when you use them again.

Turpenoid or Mineral Spirits For Creating Washes-- When you want to use solvent technique for art works, solvents will come in handy.

Take care that you are not allergic to them or open the window for better ventilation to reduce the damage of inhaling the fume.

Rubbing Alcohol or Alcohol Swabs -- I keep a box of alcohol swabs to either clean my fingers and my painting knife.

If you happen to drop a tiny amount of oil pastels on the carpet, pick up a small piece of alcohol swab and clean the carpet. It also works for the oil pastel on your clothes.
---
Storing Oil Pastels
Store oil pastels in separate compartments in their boxes so they don't come in direct contact with each other.
One word of caution: oil pastels may melt under extreme heat.
Unless you hold them to the source of heat really close, I don't think it is a common problem. If you have to take the oil pastel sticks outdoors when it is hot, place them in the ice chest with some packs of ice.
Since they never dry up like oil or oil sticks, you should frame it under a glass. Unlike in the case of framing pastels, fixative sprays or varnish have no place in oil pastels. Many times they may damage the oil pastels.
Want to check out the oil pastel demo?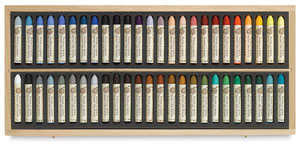 Explore Drawing and Painting

›
Oil Pastels
› Tips For Using Oil Pastels