Tools for Creating a Realistic Oil Pastel Painting
An oil pastel painting does not have to have a rough texture. It is possible to create beautifully realistic images with oil pastels—just like you can with oil paints or soft pastels. All those details and hard edges can be created if you work with the right tools.
For blending colors and making smooth passages in an oil pastel painting, I recommend dipping the oil pastel sticks in turpentine before you apply them to the painting or using a brush wetted with turpentine to blend already-applied pigments.

You also can blend oil pastels into linseed oil, which allows them to be moved around on the surface. Both are good ways to blend colors in an oil pastel painting, but I prefer linseed oil as it does not thin out the pigments like the turpentine does.
Turpentine tends to flatten out the color, which requires added layers on top to compensate.
If you don't want to deal with the toxic fumes from turpentine, then I'd suggest a blender to smooth the textures and seamlessly blend the colors.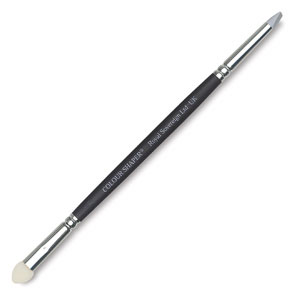 Oil Pastel Blender
Color Shapers
These tools are wonderful for blending, smudging, and dabbing oil pastels.
Commercially made color shapers come in different shapes and sizes.
If you are working on a large painting, color shapers larger than size 6 is good. For details, you'll want to something in the range of size 0 to 2.
These tools come in handy. They clean easily because they do not absorb the oil pastel pigments. They blend the colors beautifully, and you will not need to get your fingers dirty from that oil pastel grease!
---
Clay Shaper Set

Clay Shapers
Clay shapers
are normally used for making sculptures and ceramics, but I find them great for oil pastel painting.
They are much firmer than color shapers and can withstand rough rubbing. As a result they don't wear out as quickly as color shapers. You may want to give it a try.
They also come in different shapes and sizes. I find the flat chisel works best for oil pastels. I use the flat part to push the pigments and blend them. I use the angled part to remove unwanted specks of pigment. Experiment to find the perfect one for you.
Improvise your own blenders and color shapers
You can create your own oil pastel tools with inexpensive items from your own kitchen or local hardware store.
Recently, I was talking with some artist friends and learned that there are ways to fashion your own blenders or shapers.
---
Alternative Tools
You can use a silicone or hard rubber eraser. Both of these wipe clean and are sturdy enough to move oil pastels around on the canvas. Just use an exacto knife to cut them to the size and shape you want. These are good for smaller paintings and for details.
You can use a nail cleaner blade to create a sgraffito effect in your painiting. Actually, anything with a sharp blade will work for this. I use my painting knife with a pointed tip to create a fine sgraffito lines.
I also use an Kemper wipe out tool for blending both oil and oil pastel paints.
Lately I took an old rubber spatula in my kitchen drawer, cut and shaped it with my exacto knife, and now it is doing a beautiful job of blending my oil pastel paintings! It works as a good sized color shaper for my larger paintings. It's a good way to save some money, not to mention the pleasure of being resourceful.
Improvised blenders from old rubber spatulas


Don't want to fuss about making your own blender? You might want to check out this tool by clicking on the image below.

Explore Drawing And Painting > Oil Pastels > Oil Pastel Tools