Improve Your Art Through Self-Critique
Having learned some basic drawing techniques, you will naturally want to continue to improve your art. It is a wonderful feeling to move beyond being limited by your technical skills and be able to express yourself more freely!


At this stage, you can use the same basic self-critique strategies that many other artists use to improve their work.
To improve your art you must approach your work with a fresh eye and be honest with yourself. You do not want to be so harsh that you kill the spark which drives you to paint, but you don't want to be too lenient on yourself, either. The idea is to catch the weaknesses in your paintings so as to improve your abilities.

---
1)Set an objective for your painting or drawing before you start.
Having a clear idea of what your painting or drawing should look like when done is like traveling with a map. The mental picture will help you to get your art to where you want it.
Although I often embrace the idea of spontaneous detours, or what my art mentor calls 'discovery' (or what a lot of people call 'mistakes'), I am more comfortable when I'm done and my painting says what I wanted it to say.
You might want to achieve a certain mood or feeling in your painting. You might want to try some interesting color schemes, or attempt a particular style. Whatever the aim, ask yourself where you are heading with the work.
Sometimes we all find that a painting or drawing is not going anywhere. The best thing to do is to admit that you are struggling and ask yourself if you are willing to try it again.
A successful painting often comes only after many failed ones. Even the old masters did not achieve perfection on the first try.
2)Be willing to take a risk.
There are no mistakes when studying art.
I have learned from other great artists that mistakes should be considered '
opportunities
.
Use the so-called mistakes as opportunities to ask yourself questions. For example, do you really know how to mix the colors you want most of the time? Or, how far you should go before further work will just mess up the painting? Or, why does the nose look crooked?...Whatever the question, take it seriously and search for the answer!
3)Detach yourself for a while.
Often we artists become so involved with a painting that we 'become one' with our painting. We will stare at it for hours; we live and breathe it. Not a good thing.
As your painting progresses, take a break or two. Let it sit for hours, days, or even weeks. Review your goals for the painting to make sure you aren't getting distracted.
If you are unsure of how to continue, go away and come back later. You will be surprised at what you will see after you have pulled back for a while. You will be able to look at it from a more neutral point of view, which will allow you to improve your art.
Bottom line? Do not fall in love with your painting. Move on. Do another painting, or redo it completely if you do not like it. Tweaking it to death will get you nowhere.
4)Find another helpful critic.
When you are ready, show your painting to someone you know will give you an honest opinion. You do not want mindless flattering comments; they make you feel good, but they won't improve your art.
At same time, you do not want to be totally led by someone else's opinions. You do not want to feel like you are not creating your own painting any more.
First, know what pleases you and what needs to improve, then present the questions to someone else.
Second, ask both an artist better than you and a non-artist for their opinion. An untrained person's comments on your art can be valuable, too. And always remember to ask specific questions; otherwise you will get vague answers.
I have sometimes shown my paintings to my children; they can be quite frank.


---
Use these self-critique techniques to to improve your art. Keep in mind that making art is a lifetime process. As you grow, the skills will grow. Enjoy the journey!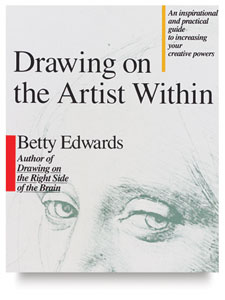 Highly recommended- Tap into the creative power in you.
Explore Drawing And Painting >
Art Tips
>
Improve Your Art