Learn How to Draw Hands : Video Clip
Sit back and learn how to draw hands!
A picture is worth a thousands words and here it is - a short video clip I made with my husband's help. Click it and get a glimpse of how I go about drawing a hand. This is how I draw just about anything else no matter what the subject matter is.
Note : I usually plot the landmarks with very light touch at first as it is easier to clean them off later. You might not see the lines very clearly initially for the first 10 seconds. But they are there to guide me to define the form. I made the clip short enough so you will not sit and get bored. Enjoy it!
Read step by step instructions on drawing a hand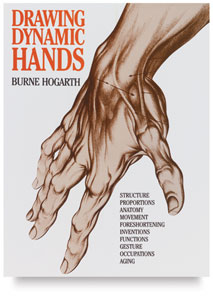 Learn how to draw dynamic hands.
Explore Drawing And Painting > Draw People > Video of How To Draw A Hand