Drawing Tutorials: Second Part-Copy A Drawing
In this second of the drawing tutorials, you will continue developing your ability to see as an artist. To do this, you will make a copy of a caricature drawing below. As in the first drawing tutorial, you should copy the image upside down.
Remember, by turning familiar shapes upside down, you trick your brain into giving up the labeling that it attaches to objects.
You begin drawing from reality instead of your preconceptions. Even then, your mind will naturally try to find symbols to apply to what you're looking at, so to get the most out of the exercise, you must fight this tendency .
This tutorial requires total concentration, so while you are working on the drawing exercise, try to minimize the distractions around you.
Choose a time when there are no urgent appointments. Turn off the cell phone; turn off the TV or the radio. Ask family members not to disturb you.




If the image looks too small on your computer screen, use a graphics program to enlarge it, or print it and make an enlarged paper copy. When you are satisfied with your (upside down) source image, get a pencil and a sketch pad ready.
I suggest you use a drawing surface with similar proportions to the image. For example, if the image is 4 inches by 6 inches (about 10 cm by 15 cm), then a good size for the drawing surface might be 8 inches by 12 inches.
Once you are comfortable with the size of the image, you are ready to make your copy. Begin anywhere you wish. Most people tend to start at the top, but if you want to make it more challenging, you can start from the bottom.

---
Use The Following Guidelines To Get The Most Out of The Drawing Tutorial:
When you are finished with one region, work on the area right next to it. Move from one line to an adjacent line, from one space to a neighboring space. Do not try to outline the whole and then fill in the parts.
Focus on the parts as shapes, and resist the temptation to name the parts. Adopt the language of vision as you draw. Instead of saying "I am drawing an eye" or "this is the upper lip," try to use phrases like "the line is slanted downward to the right," "the curve is more rounded at the upper left corner," or "this is almost like a cube."
If you find yourself applying names to the parts, pause, look away, and clear your mind before continuing.
---

When you are done, take a look at your copy right side up....
Congratulations! You are learning how to draw what your eyes really see! When doing this exercise, many students will for the first time become aware of the urge to label shapes. Training your mind to look at things without such labeling is the process that allows you to draw freely, but it takes effort.
It is a struggle to switch your brain from the old way of seeing to the new. So if you experience that inner conflict, don't worry; you are doing it correctly.
Now that you have completed the first and second drawing tutorials, click here for tutorial Part 3 (drawing without looking) and part 4 (drawing on the picture plane).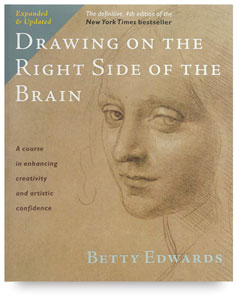 Explore Drawing And Painting >
Drawing
>
Drawing Tutorials