Drawing Techniques : Using Soft and Hard Edges Creatively
One of the drawing techniques that will really improve your drawings immensely when you master it is the proper use of hard and soft edges.

Familiarity with these drawing techniques will also ease your transition into painting later. In fact, the wise use of soft and hard edges is often what differentiates advanced representational art from amateur efforts.
In line drawing, the lines not only delineate and define spaces and shapes; they also play a very vital role in the composition. Lines thrust objects forward or make them recede into the background.
In other words, lines create a sense of distance. and action.

---

18th century painter Francois Boucher used both soft and sharp lines in this drawing.
When you skillfully mix soft and hard edges in the right places, it creates a path for the viewer's eyes amidst the illusion of three dimensions that has been created on the flat surface.
When edges (lines) are soft, the associated objects seem to recede. You can blend them into the background by making the lines extremely soft.
When soft edges are all you use in a drawing or painting, it creates a fuzzy, dreamy effect.
By their nature, some subjects call for soft edges and values. For example, clouds in the sky, waves in the ocean, and flowing velvet cloth are all dominated by soft edges.
---
Use Restraint When It Comes To Hard Edges
In nature, there are almost no hard edges or sharp lines. What you see around natural shapes are the boundaries between the object and the space around it. If you define it with a distinctive line, it looks harsh.
In line drawing, we create a lot of sharp and crisp lines all over the paper, but this is just the starting point. The trick is to know which need to be softened, and by how much.
I don't mean you should never use hard edges. As elements of drawing techniques, they are necessary and very useful in things like cartoons and caricatures. They have a place in representational drawings as well: to emphasize the things to which you want to attract the viewer's eye.
Hard edges creates a visual tension and call out for attention. If you strategically plan the balance of soft and hard edges, your drawing will look "just right," and when you any paintings you create from the drawing will benefit as well.
If your drawing is full of hard edges, then your objects will look unnatural. You will also confuse your viewers, because there are no places for their eyes to rest. With all sharp lines, everything in the painting is competing for their attention at the same time!
---
When In Doubt, Soften All The Edges Then And Choose A Few Edges To Emphasize
In most drawings and paintings, you are safe with more soft lines and only a few hard lines emphasizing your focal point. Exceptions to this rule include highly charged gesture drawings with intensive action lines.
One way to check if you have a good balance of soft and hard edges is to squint at it (look through half closed eyes). The harsh lines will tend to "pop out" and you'll be able to see better which ones should be softened.
Keep lines hard at your focal point and wherever lines are directed toward the viewer.
---
Use Some Simple Tools To Control Edges
For these particular drawing techniques, I usually use a natural chamois cloth
to easily erase uneven textures and smooth out lines. Another way to soften edges is to use a soft brush. Some oil painters, myself included, like to use a mop brush, but almost any soft brush
will do.
You can also use your finger to rub out and soften lines. I used to do this a lot, but the grease from my fingers added unnecessary sheen to my drawing and made it harder to erase or add more layers later!
Another way to keep your edges in control comes from knowing your drawing tools.
With sharpened graphite pencils
and soft charcoal pencils
, you want to exert less pressure as you draw. You can gradually build up pressure later if you decide to darken or sharpen some lines.
Some hard graphite pencils are not easy to erase, so you are better off starting with the softer lines in your drawing. Later you can darken them as needed.
This is a graphite pencil drawing of a girl's face. At this stage, I have not yet softened any edges. Red dots indicate some harsh lines.


This is the final drawing with the edges softened. The girl's face looks more natural, and the lines are not as jarring as before.
In this case some lines are still harsher than I intended since I used hard charcoal pencils first.
---
A Balance of 80/20
As a rough rule, 80% soft lines and 20% hard lines holds for many paintings. It is not carved in stone, but you can always count on choosing more soft lines over hard lines when drawing from nature.
Master the drawing techniques of softening the edges and you will be amazed at how much your drawings will improve. You also can apply the same techniques in your paintings. Master painters understand the power of controlling edges, and you can too.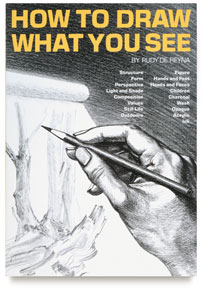 Explore Drawing And Painting > Drawing Lessons >Drawing Techniques By Using Soft And Hard Edges