Begin with these Drawing Lessons and Learn How to See and Draw as an Artist
"Every child is an artist. The problem is how to remain an artist once he grows up" - Pablo Piccasso
Every one can learn how to draw and paint and it is never too late to pick up your drawing lessons.

You don't need a talent; you just need patience and perseverance. Start with these art lessons and call upon the artist in you again!
Learning to draw is a matter of learning to see your subject and then coordinate your eyes and hands to convey it using a two dimensional surface.

This page links you to the essential fundamental drawing lessons that will start you on your way to being able to draw anything.
These lessons introduce the basic elements of drawing and suggest exercises you can use to improve your skills.
Don't let the word "basic" fool you into thinking these skills are non-essential!
Great paintings are all built on a foundation of solid basics—and nothing else.
There are really no hidden techniques or extra magical drawing secrets that you need in order to draw successfully.
Just as when you learned to walk, however, in drawing, you also have to start with baby steps!
As you work through these lessons, you will be learning essential drawing skills and you will also discover more about yourself: your strengths and limitations.
It's all in the doing.......
Most of the success comes from doing the things you are trying to learn—not so much from knowing the theories and short cuts. With focused effort and lots of practice, you will be able to master the art of drawing. The most important factor in your success is you!
Work your way through the following basic drawing lessons to educate (or reeducate) yourself on the fundamentals of drawing.


Drawing lessons 101:
Know the ABCs of Drawing
First, arm yourself with the keydrawing supplies you need to get started doing realistic drawing. The beauty of drawing is that these materials don't have to be elaborate or expensive.



What makes up a line drawing? Start with these fundrawing tutorials and learn a visual language step by step and change the way you look at things.


You already know how to write your name. Now in the very first drawing exercise, you will learn to imitate a signature --by copying it when it is turned upside down. Bet you didn't expect to be learning to forge a signature in your first drawing class, did you?


Next is another fun exercise to help you switch your brain and eyes to see like artists. You might experience some "panic," but this will put you on the right track.


Move on to the 3rd drawing lesson and learn blind contour drawing
to help sharpen your visual language.


Once you are done with that, you will move on to learn how artists use picture planes to transfer 3 dimensional objects to 2 dimensional surface.


Negative spaces - discover what they are and use them to your advantage in your drawings.



Use this contour line drawing exercise to sharpen your visual language.
Merely drawing the outlines of an object correctly can be invigorating and fun, and it will give you an insightful view on the spaces within and outside the lines.


Drawing tips on measuring to get proportions right from the start.
This is what advanced artists do to ensure accuracy in their drawings and paintings.



Add volume and enhance the 3 dimensional looks in your drawing by studying the tonal relationship(or values).
An accurate tonal rendition is what it makes your drawing 'realistic'.



Now you can

learn the basic shading techniques to render the tones you see and create the form. Also discover how to blend shading smoothly with the right tools.



Discover sight sighting.
This is a required class in any academic art school curriculum, but you can learn it on your own to drastically improve your ability to see and draw.


Learn to draw perspective.
Learn how the laws of nature alter your perception of distance and how to convey this in your drawings. Once you have learned the basics, then 2 point perspective, application of 2 point perspective, and 3 point perspective come easy, and will allow you to create an illusion of depth in even the most complex setting.

Copying, copying, and copying again. You can learn a lot by following in the footsteps of others. Find out more in

drawing tips on learning by copying other artists' drawings.
There is much to learn about the language of drawing! I will continue to post new drawing lessons from time to time, so check back occasionally to see what's new. In the meantime, if you are ready to dive into drawing and have fun, click here for more in depth drawing lessons.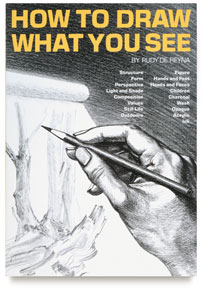 Explore Drawing And Painting ›
Drawing