Online Drawing Lessons: E-Book Reviews Learn How to Draw with Dimes and Nickles
In your quest for good drawing lessons, if you are looking for:
affordable drawing lessons for less than $37
immediate access to drawing exercises without geographical limitations,
the opportunity to learn to draw at your own pace and in your own home,
good teachers to share their expertise in your own home
then drawing ebooks might be the answer for you.

An increasing number of visitors to my site have shared that they learn a lot more from books than from an art class with a live teacher.
That does not surprise me.
After all, there is so much information about drawing and painting that must be absorbed over time that it is impossible to learn everything from a short workshop or occasional painting class. And if the teachers do not really provide a solid foundation in drawing, it makes it hard for students to advance when they move on to painting.
Other readers of my site have asked me where they can find drawing lessons in their area. Some readers share the passion for art, but simply can not afford to attend art classes.
Drawing lessons in the form of e- books, if well organized and clearly written, can be a very effective tool to move you ahead on the learning curve.
Some time ago, prompted by a reader's question, I began looking for the best e-books on drawing for beginning and intermediate level artists.
It took a while to wade through the mass of mediocrity that crowds the market, but I have found four really good ebooks that are particularly suited for beginning and intermediate artists. One, in particular, would also be good for more advanced artists who want to get into figure drawing.


---
The ABC of Art Skills by Jenny Gibson
- This ebook is written by an experienced art teacher who has worked at both the college and grade school level.
If you are intimidated by the thought of drawing anything, these drawing lessons will quickly dispel your doubts. And for those who want to learn how to teach art, this ebook also provides some exercises and tips to help you too.
The book lays out the drawing process in systematic easy steps that anybody can follow. Besides the mechanics of drawing, Jenny also teaches you how to visualize your concept and bring it into drawing. I found her approach a great way to get past that stage where you face the blank canvas and struggle to figure out how to start.
This ebook will revive the fun of drawing you may have lost in school. If you want a non-threatening way to learn drawing, this is it.


---
Painting and Drawing Secrets by Alfred Daniels
- This e-book is geared toward both beginners and intermediate level artists, with a particular emphasis on watercolors. This book covers more advanced topics than The ABC of Art Skills and it takes you further toward the essence of 'learning to draw what you see'. The author squeezes a lot of elements of drawing and art media techniques into this e-book, that it is like having mini workshops on drawing, watercolor, plein aire drawing, and oil painting.
I like the part on the thinking behind the drawing process that is so important for further drawing success. The section on oil painting does not go to any great depth, but it does introduce you to oil painting as a medium. I also appreciate the section on drawing outdoors. My opinion is that I think everybody should learn how to draw outdoors, so I was delighted to . I am delighted so I was delighted to see that the e-book covers it.
The e-book comes with a variety of "bonus" lessons on a variety of topics. I particularly enjoyed the sections on how to draw various body parts, such as hands and feet. The instructions are clear and easy to follow. They won't teach you how to draw a full body portrait, but they do show you how to tackle some of the more challenging parts of figure drawing.


---
Figure Drawing Secrets by Victor Perard
-Don't be fooled by its title....really, there are no "secrets" in figure drawing. This e-book is packed with common sense tips that you would learn from any good figure drawing artist. I think figure drawing is both the most challenging and the most rewarding path for an artist, so I recommend using this book after you have a good grasp of the basics of drawing.
Knowledge of human anatomy is important for the figure artist, and this e-book can help you develop it, even if you do not have access to a life drawing class or a nude model. If you are painting a head, knowing what underlies the surface—the skull, muscles, and surrounding connecting tissues—will strengthen your perception.
It is a good resource for both beginner and intermediate level figure drawing artists.

---
Learning 2 Draw by Todd Harris
- This is a gem of a resource for developing a solid ability to draw figures. I have recommended it to some of my artist friends who have were struggling with figure drawing even though they were successful with other subject matter.
I am impressed with the quality of the author's instruction; he really over-delivers. There are several "bonuses" that come with the e-book, but Learning 2 Draw is a solid enough work on its own and worth the price even without the extras. I wish that every portrait workshop taught these drawing techniques first before letting students pick up a paintbrush.
Todd Harris, a concept artist working for Disney, covers everything every representational artist should know about how to draw the human figure.
This is the kind of art education that you will not necessarily find in a regular college art class. I know that he knows his stuff because he studied at the Florence Academy of Art (where I have studied as well).
For beginners, this e-book will help you take off faster. For intermediate artists, Learning 2 Draw will help you fill in the cracks and strengthen your fundamental skills. I feature this e-book on my home page, so you can tell that I highly recommend this ebook.
I learned quite a bit just from reviewing it. Todd's techniques are solidly grounded in the classical academic tradition, but the engaging presentation of these drawing lessons never lets it become boring. Systemic and organized, it is suitable for artists of all levels and will save you the expense of years of college art classes.


---

Every journey starts with the first step.
Good drawing lessons are within your reach. Take hold and put the knowledge into practice as you go. In no time, your drawing skills will improve, so will your painting skills.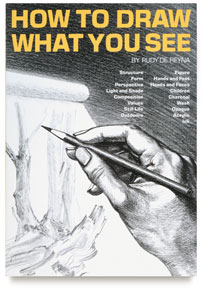 Explore Drawing And Painting›
Drawing Ebooks