Magic Drawing Lessons? What I do to Teach My StudentS How to Really Draw
Welcome to the advanced drawing lessons page!
Here you will learn the key drawing techniques that every accomplished representational artist uses. I use a multifaceted approach to drawing, and I teach my students to draw the same way. No tricks or shortcuts.
Do you feel intimidated by the word "advanced"? Don't. It's just there to distinguish these lessons from the
the really basic lessons I've put together elsewhere on the site for people who are complete beginners.
If you are just starting to draw, then please take the time to go through the basics, and then return here. If you already have a foundation in drawing, then read on and polish your skills.

I learned these methods years ago when studying classic drawing techniques. I have used the same principles in my drawings over and over since then. You probably will not master all of them at the same time. I still catch myself neglecting some of them myself sometimes.
With practice, however, these techniques will gradually become second nature.
Read on to learn what I think should be taught in every art school before allowing the students to touch a paint brush (and there's no tuition for this either!).
---
You might be one inch away to learning drawing accurately!
---

I attend weekly open studio sessions at a local art school. Once I encountered the following quote when I was there. I think I'd share here since it is thought provoking to me.


"One of the major functions of art is to present a situation in which perceptions -coaxed from their engrained habits-have the possibility to change" - Joseph Johns.
Hopefully this is what the art of drawing does for you. I will keep posting more interesting drawing lessons for this section.
I do not pretend that I can fully provide comprehensive drawing lessons with this site although it is my goal to expand the site in the near future.
If you feel like learning more, you can click here or the picture below for more drawing lessons.
Want to learn more? check the free art lessons here - The Art Instruction Blog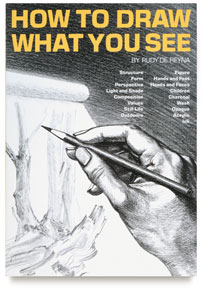 Explore Drawing And Painting > Advanced Drawing Lessons