How to Identify Color Value

Whether you are a representational or abstract painter, you already know that the ability to paint the correct color value is vital to the success of your art. A painting that 'works' or just 'looks right' always has strong tonal relationships, or at least harmonious ones.
Unfortunately, it is harder to judge value relationships among colors than between grays. Similarly, I find that muted colors are a lot easier to judge than bright colors in terms of the color value relationship.
When in doubt, go with the value, rather than the hue
It is the tone of the color that matters most. If you have taken art lessons, you have probably heard that before. I was taught that way, and it really is true. So, when you draw or paint, remember to focus on the value or tone first.
Value is relative
The local value, the lighting condition, the angle of the light source, and the subject's surroundings will all influence the tone. So the color value is not static.
So, how do you figure out whether you have the value of a color right or not?
Tricks to get the color value correctly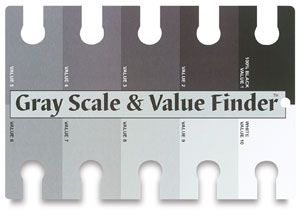 Use a gray scale and value finder.


This handy tool is great for matching your color to a tone on the scale. You can either buy one or make your own gray scale by painting strips numbered from one to 10 that range from pure white to pitch black on a piece of white cardboard.

To use it, hold your gray scale next to the color and see which value will blend into your target color. You are looking for the strip on the scale which has the least contrast with the color you are trying to match. Obviously there are more than just ten tones in nature, so you may not find an exact match. That's okay; just finding the closest match will get you close.

Use a monochromatic grids with value finder

Monochromatic filters are used in photography, but you can use the same idea for painting, too. Imagine taking pictures using a colored lens on your camera. Everything would come out as shades of that single color. Likewise, if you hold a piece of dark red plexi glass or acetate tape in front of your subject, you will see everything as shades of red, which makes it easier to spot the value relationships.

If you have a lot of warm red colors, then I advise you to use a blue filter instead. I discovered this when I was using dark red acetate to gauge the color values for portraits. Every time I used a red film to look at the flesh tones, all the tones my naked eyes told me were there disappeared. You guessed it- the red tape could not pick out the color values correctly on the warm skin.

As you might guess from this, red filters do better for things like a lush landscape where cool colors dominate.

Use a black mirror


A black mirror is just a piece of glass where one side has been painted with glossy black paint. I have owned one since I studied in Florence and use it to check overall tonal relationships of a painting. Mine is small enough (a little bigger than a playing card) to carry around easily. It's a bit awkward, but to use it, I hold the mirror where I can see both the subject (or the painting) and the image in the mirror. You can use this to catch areas where the color values are out of balance. I prefer using a light and portable plastic monochromatic filter.

You can attach a piece of black paper to the back of a clear glass for a home made black mirror.

Use an image editing program


If you are halfway through your painting and want to catch any value "jump", you can either scan or take a digital photo of your painting and load it into Photoshop or Gimp, (a free alternative). I have used the latter repeatedly and got good results with it.

As this process is a bit of a hassle, you may want to save it for the last step when you want to make sure that your values are absolutely the way you want them.
Explore Drawing And Painting > Colors > See Color Values