Explore these Color Theory Resources and Become Color Oriented.
As an artist, you will really benefit from a solid grounding in color theory. That's why I have written so much about it on this site. On this page, I present two additional resources you can use to improve your abilities.
---
In depth color mixing lessons
If you desire to really harness colors and master the art of color mixing, then consider the
"Understanding Color and Color Solutions"
videos by Johnnie Liliedahl. These two volumes, by a known oil painter are a wonderfully comprehensive. You'll love them.
The first video explores and explains basic color relationships. It lasts about 90 minutes and shows you how to mix any color just by observation.
The second video builds your understanding of color-temperature, value and intensity. It shows you how these components of color affect your paintings. Using this information, you can plan color schemes for your paintings ahead of time.
I particularly find the part on using color (instead of using value) to build up form enlightening because I have been such a strong believer in value painting. It is challenging to see colors as they are, instead of what their tonal values are.
Another part of the second video that you might find interesting is the discussion of how to differentiate between transparent and opaque colors. Whether you are using watercolor, oil paints, or even pastels, it is imperative that you know the opacity of your colors. This issue is also related to the effect of light on the colors.

---
The New Munsell Student Color Set
A lot of things you know about color and color vision seem intuitive and simple. Yet painting with color involves some of the most complicated things on earth: the human eye and brain to name just two. There have been quite a number of color theories formulated. The most practical and the one most commonly used by modern designers and artists is called the Munsell Color System.
Albert H. Munsell, a practicing artist and teacher, developed this system in 1905. It measures and analyzes the three qualities of color individually through a series of systematic exercises. These visual and hands-on exercises will save you loads of time, whether you mix paints or work with a computer palette.
It's analogous to learning how to read music.
I bought a copy for myself a couple of years ago. It has taken me a while to go through all the exercises, and I still haven't finished all of them, but already I can see the difference it makes in my paintings.
I have also been able to use some of them in my classes. Each exercise builds on the last, so you want to take them in order. The most fun part of the system is the placement of the colored paper chips.
The drawback of the system, in a way, is that it's just a "system". Some feel it is too mechanical; others, including myself, have really benefited from it. It all depends on how you look at it.
I think that it is a great system for organizing and making sense of what out of our intuition tells us about color. Just like our ears can pick out different rhythms, but it takes baby steps in music lessons learn how to play the instruments, this color theory is meant to assist you in understanding what intuition spots but your conscious mind can't quite recognize.
You can obtain a copy of Munsell Student Color set either through online bookstores like Amazon.com
or, to save money, check out ebay.com.
If you have a copy, take your time and go through the exercises. You will gradually absorb the system and acquire a deeper understanding of colors and how to mix them.
Click here or the image below to get your color wheel.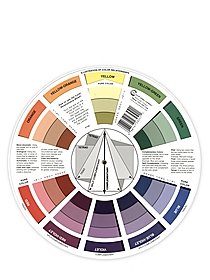 Explore Drawing And Painting > Colors > Color Theory Lessons